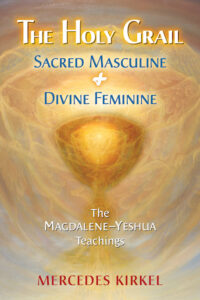 Book 5 of the Magdalene-Yeshua Teachings
The Holy Grail legend strikes a deep chord for many, calling us like a moth to light. In these groundbreaking communications, Yeshua (Jesus) and Mary Magdalene explain why. They tell us the Holy Grail holds the key to our evolutionary path, unlocking the world of Sacred Masculine and Divine Feminine. Offering much-needed guidance for men and women, THE HOLY GRAIL reveals how to live from our higher Masculine and Feminine, and through that create a higher reality.
Part of The Magdalene-Yeshua Teaching series of universal wisdom from award-winning author Mercedes Kirkel.
---
Watch the Original Channeling of "The Holy Grail"
(Chapter One in the Book)
©2018 Mercedes Kirkel, http://www.mercedeskirkel.com, All Rights Reserved.
Praise for
THE HOLY GRAIL:
Sacred Masculine & Divine Feminine
"As an observer of psychic phenomena over many years, I do believe that Mercedes's channeling is genuine and that she is overshadowed in the trance state by real beings who call themselves Yeshua and Mary Magdalene. When I listened to this channeling I was blown away."
—Dr. Lorenzo da Costa, MD
"A most profound revelation of what the Holy Grail is—shining a light on the complementary roles of Magdalene love and Christ consciousness."
—Robert "Han" Bishop, PhD, host, "Transforming Reality Talk Show"
"A book filled with uplifting insights for these modern times. Read it and read it again, for each chapter contains a gem of wisdom and inspiration."
—Ton Van der Kroon, men's work pioneer and author, The Return of the King
"These messages are the key to finding true happiness and wholeness in today's world."
—Amara Karuna, Sufi minister and spiritual counselor
"As a man who's been doing spiritual work and men's work for nearly forty years (and by the way, a channeling skeptic), I say without hesitation that every man should read this book. What you will find here is an understanding of the seeming conflict between the Masculine and Feminine, how to honor the polarity that is who and what we are divinely ordained to embody, and how that polarity is destined to fuel our ascension to our true source. This book is an opportunity not to be wasted."
—Stan Eads, King-Warrior-Lover-Magician
"The Holy Grail is a roadmap to humanity's higher octaves, where our collective Sacred Masculine will indeed unite with the Divine Feminine."
—Sheil Seclearr, filmmaker, "The Water Clock"
"This is an amazing book! The Holy Grail brings the Sacred Masculine and Divine Feminine together in a way that will truly mesmerize the serious reader. Be prepared to learn and grow spiritually."
—Ronald Tobin, spiritual counselor and hypnotherapist
"These messages are very profound. I think it's important that this is brought to the world."
—Jacqueline de Rond, "Awakening the Illuminated Heart" workshop leader
"I highly recommend this book. The revelation of the true meaning of the Holy Grail is far richer and more beautiful than any of the mythical and mystical explanations presented hitherto, warming my heart and touching the deeper recesses of my soul."
—Anant Akash, PhD
"I want every human on the planet to read this book."
—David Spinney, New Consciousness workshop facilitator
"This book will impact people in a big way—helping to see what's possible in sacred union."
—Richard Alexander Arsic, men's work facilitator
"Mercedes is a clear conduit for both Yeshua and Mary Magdalene. I highly recommend this book for all spiritual seekers."
—Stanley Sabre, poet and spiritual warrior